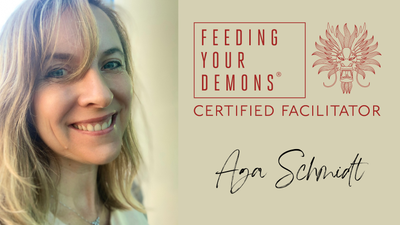 In western psychology it is called sometimes shadow work but this specific method has extra liberating dimension.
This method is founded by American woman Tsultrim Allione. In her own process of applying the practice of Chöd, which was originated by the eleventh-century Tibetan yogini Machig Lapdrön
she has realized that demons—are not exotic beings - they are our present fears and obsessions, the issues and emotional reactivity of our own lives. Our demons, all stemming from the root demon of ego-clinging, but manifesting in an infinite variety of ways, might come from the conflicts we have with our lover, anxiety we feel when we fly, or the discomfort we feel when we look at ourselves in the mirror. We might have a demon that makes us fear abandonment or a demon that causes us to hurt the ones we love or allowing for being hurt. It can cause conflict with our business partners or with our team.
Demons are ultimately generated by the mind and, as such, have no independent existence. Nonetheless, we engage with them as though they were real, and we believe in their existence—ask anyone who has fought an addiction or anxiety attacks. Demons show up in our lives whether we provoke them or not, whether we want them or not. Unfortunately, the habit of fighting our demons only gives them more strength. By feeding, not fighting, our demons, we are integrating these energies, rather than rejecting them and attempting to distance ourselves from disowned parts of ourselves, or projecting them onto others.